Good morning!
Welcome to the Minnesota Developers Conference!  We're so happy to have you join us (virtually)!
Josh, Dan, and Abraham built a really sweet interface for you to enjoy, and the link is below. But, here are a couple of things to know before you click through.
You'll be logging in with the email address you used when you registered. I emailed you all last night at that email address.
Once you're in the app, please click on the welcome video, then select a video from the left side to enjoy at 9a, 10a, and so on!  Remember that all the videos are archived, so if you have a quiet session hour just click on a previous session video to watch.
While you're watching a session, you'll see an "Send a Question" button.  This is your way to get the MC to ask the Speakers a question on your behalf!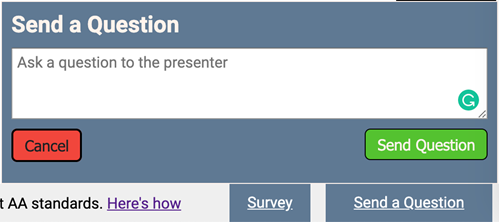 Also, remember there's a "Survey" button for you to give the speakers your feedback on how they did!  They each put a lot of work into their talks and they want to hear from you.
So, without further ado, go to this url to start your day!
As always, if you have any questions, please contact us at
mdc@ilmservice.com
 - we're here to help!
Enjoy your day!
Past MDCs
Sponsors
Presented By

ILM Professional Services

We build integrated web and mobile applications to solve complex business needs. From UX and technical architecture to rich front-end and sophisticated back-end development, we continually work on our mastery of cutting edge technologies. We are ILM.

Community

MN Enterprise Mobile

Led by local developers, the Minnesota Enterprise Mobile User Group is a place to come together to share knowledge, experiences, and lessons learned with the development community regarding enterprise mobile development, with a focus on mobile cross-platform application development and the Xamarin toolset. Our goal is to cover all areas of the Enterprise Mobile landscape.

Community

Twin Cities .NET User Group

The Twin Cities .NET User Group meets to discuss a wide range of topics of interest to .NET developers. Unless otherwise noted, we meet at the ILM office in Edina on the first Thursday of each month. Everyone interested in learning more about .NET-related technologies is welcome to attend.
View All Sponsors